Here is the course details that includes fees, syllabus, take away and more.
This course is suitable to launch Business Analysis career or strengthen the existing Business Analysis career as it teaches basic to advance level international standard course. The knowledge and skill will be suitable for consulting or business analysis role in any leading organization in the globe.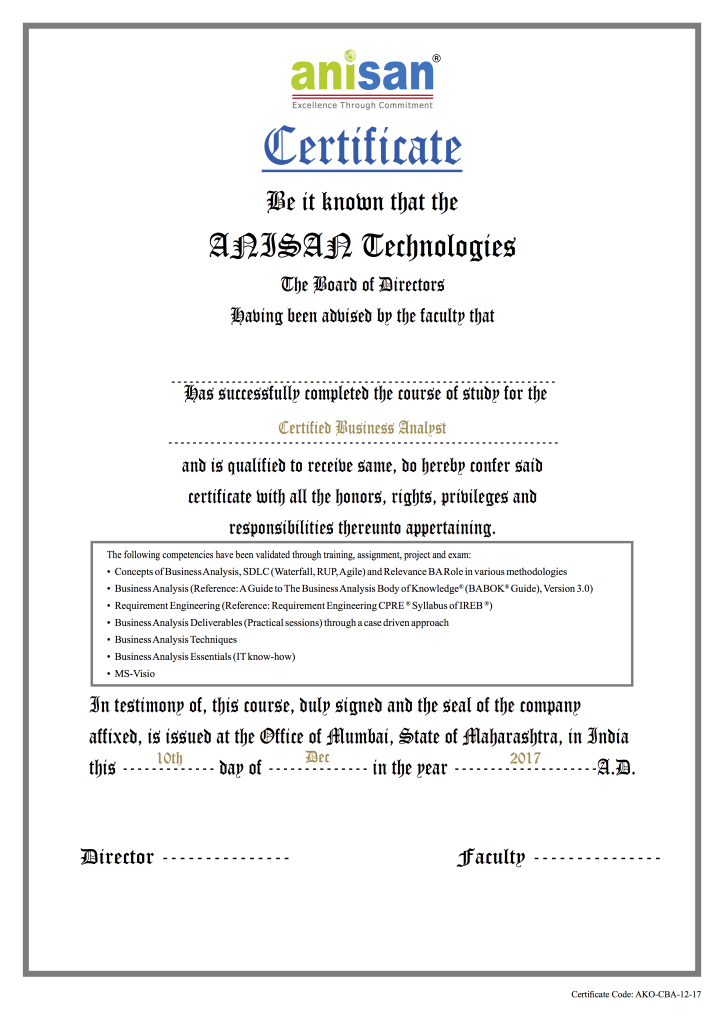 ————————–
If you wish to launch your career successfully as Business Analyst or strengthen the existing career in Business Analysis, here is the comprehensive training and certification offered by ANISAN in online mode.
Training Mode and delivery: This is instructor led virtual training where trainer will speak and share the desktop to deliver the training. It will be delivered online using training tool to share desktop, create notes and share application for practicals.
Take away: 50 hours training covers theory as well as BA deliverables / practicals + BA book + ANISAN Certification with our partners logo + case study.
What is included: Training book + other course material, +ANISAN Exam + ANISAN CBA Certificate + 40 PDUs (for IIBA certification exams) + IIBA Exam Preparations.
Dates: Starts from mid of January, March, May, July, September and November of every year.
Duration: Approx. 10 weekends or two months

Timings: Flexible to accommodate students' timezone.
Syllabus: This is generic business analysis that cover IIBA's BABOK Guide version 3.0 in theory and practicals. and it is suitable for ECBA/CCBA/CBAP exam as it helps students to understand the intricacies of applying theory in real life situation. It is case study driven approach.
Brief Syllabus:
Part I : Introduction to Business Analysis, SDLC
Part II : Business Strategy Analysis (defining business need, Gap Analysis, solution scope and business case) – Practical part I
Part III : Requirement Planning, Gathering and Management (BABOK Guide version 3.0, Business Analysis from BCS, UK)
Part IV : Practical Part II (Elicitation, Requirement Management, BRD, FRD,)
Part V : Practical – Part III Business Analysis Deliverables UML (Use Cases, Activity Diagrams and Sequence Diagram), UAT, other documentations
Part VI : Tools Training – UML with MS Visio or similar tool
Please read the blog about Business Analysis Career (https://businessanalysis-anisan.blogspot.hk/2016/03/career-paths-for-business-analyst.html) to understand the career change.
Please find attached the business analysis training and certification details below in the mail.
Fees: USD 480 (The fees covers Enrollment fees + Training fees + Business Analysis course Book by ANISAN + IIBA practice exam + ANISAN exam + ANISAN Certificate)
Please send us email or use PayPal payment option for enrollment and other fees for making payment. You can use any option to complete the payment)
joining process:
1. Please visit here and complete the form.
3. once you submit the form, we will send you paypal link to pay. 
4. Please make a make payment using any combinations (USD 100 for enrollment)
5. Once you complete, we will send you an invoice for remaining fees in two installments

About ANISAN:
Who we are?: ANISAN Technologies, one of the pioneers in providing the Business Analysis Training offers and created several success stories since 2006 in USA, Hong Kong, China, Australia, UK and India with proud alumni base in leading companies across the globe.
we offer comprehensive 10 days training in Business Analysis over the weekend.
Who should attend?: This is comprehensive Business Analysis Training and suitable for business analyst at any stage.
ANISAN USP:
1. ANISAN is one of pioneer in the field of Business Analysis and providing BA related training and placement since Mar 2006.
2. Our entire training program is based on latest business analysis knowledge and skill as per International Standards (IIBA BABOK Version 3.0, BCS & IREB)
3. Successful Completion of ANISAN's Certified Business Analysis certification our participants join renowned corporates like ORACLE, TCS, L&T InfoTech, Accenture, NSE, HDFC, Morgan Stanley, Well Point, Credit Suisse', Novartis, Cox and Kings….
4. Courses offer comprehensive syllabus that have practical and real world approach. All content is reinforced through group exercises, discussions, and sharing of real-world experiences by our subject matter experts.
5. Well experienced faculty with average 15 years Industry experience.
6. Faster Career growth for professionals who would like to work efficiently in IT and non-IT field by improving their productivity and expertise.
7.Produced large and successfully alumni base across the globe.
* ANISAN is most cost effective training in the industry.
** Value added services offered along with the training.
Please contact us if you have any queries.